September 2, 2013
Arthur really likes our new reading chair,which is weird because he can't read.
August 25, 2013
Is it weird that I really love our driveway?
August 6, 2013
Department of Wildly Overdue Posts:
Remember when I was agonizing over what color to paint the house? Well, we did get it painted. Almost 2 and a half months ago. In fact, our contractor was getting started the day I went into labor.
We went with "classical yellow". I think I like it… Initially I kind of regretted the choice and wished we'd gone with a blue, but the yellow is awfully cheery. We'll probably appreciate that when the long grey winter descends.
August 5, 2013
Near Chicken Calamity…
We're doing a little trial run with a golden retriever named Jester who
we might adopt and he nearly had himself a chicken feast this morning.
Our chicken coop has an interior area and a covered exterior area, both of which are quite secure. Beyond that there's a larger, uncovered outdoor run. It was left by the previous owner. They used it has a turkey run.
When we moved in it was in a state of some disrepair. Jeff worked to fix it up and also made it a little smaller. It was much more room than six chickens need for "free" ranging.
We don't let them out there unsupervised, but if we're working in the yard, we let the chickens roam around in the run.
It turns out Jeff may not have made it quite secure enough, though…
This morning I went out to water and brought Jester with me. I let the chickens into the run and Jester mostly ignored them while I watered the garden. But then I moved on to the upper level of the garden, where we've planted raspberries, marionberries, grapes and a couple hops plants. That area is right next to the chicken run. All of the sudden Jester was bursting through the chicken wire at the end of the run and chickens were running every which way. Jester gleefully chased and snapped at them. I screamed at him to stop, but he was too enthralled to pay me any mind. I finally managed to grab him (it should be noted that this was extra difficult because I had a baby strapped to my chest) right as Jeff came running out of the house.
When the dust settled, Bea and Gilda were still in the run, Mindy and Phyllis were in the blackberries just on the other side of the chicken wire, and Tina and Mindy were no where to be seen.
We found Tina within about 5 minutes. She was hiding up in the branches of a bush not far from the run. Jeff had a tough time catching here, but we did eventually manage to corral her back into the coop.
But there was still no sign of Amy. I stood at the edge of the run trying to listen for her while Jeff traipsed through the woods searching. I started to worry that she was gone for good. Maybe she'd gotten so scared that he heart had stopped, or maybe Jester managed to mortally wound her. I didn't think he'd actually caught any of he chickens, but it all happened so fast it was hard to be sure! Poor Bea was standing expectantly by the coop fence. It would be so sad if Amy, her fellow Mottled Java and best friend, were gone. The two of them cuddle up together every night in one of the nesting boxes while the other four chicken sleep on the roost. Thinking of Bea with no one to cuddle with was awful!
Finally, after fifteen or so very long minutes, I heard a frantic squawking from the woods. It was so loud and alarming that I thought Amy must be injured, but I turned out Jeff just scared the bajesus out of her when he, quite literally, stumbled upon her. He brought her back to the coop where she ran to reunite with her sisters.
Thank goodness!
I don't blame Jester for going after the chickens. It think nearly any dog would. Obviously we need to reinforce that fence A LOT before we let the chickens back in there.
I'm so relieved that none of the ladies were hurt! We've really become attached to the little knuckleheads.
August 4, 2013
Jeff refinished the dining room floor! Like 3 weeks ago! But I'm finally getting around to posting about it!
We still need to put the closet doors and baseboards back up. And, like, move furniture in. I'm stoked that its done, though. When we didn't manage to get it done before we moved in I was pretty convinced that it would take like a year to get around to it. So, yay for Jeff and his industriousness!
It was a tough week, though. We closed off the dining room, which meant we had to go outside to get from the bedrooms to the rest of the house. Including the bathroom. Having to put on sandals to use the bathroom made me feel a little like I was at camp. Which might have been fun if I weren't caring for an infant. It was a pain.
It's done now, though!
Long term plan: We're going to knock out the wall behind the center section of the closets there so that the living room opens directly into the dining room. Not sure when that will actually happen…
Other plan: we're going to build our own farmhouse style dining table! I found some plans online (via Pinterest where I find all things) for a table that CLAIMS to only cost $60 to build. We'll see about that. I'll share the link to the plans later.
July 19, 2013
We went for a walk in the woods behind our house today. We really live in an unbelievably beautiful place.
July 3, 2013
Hey! It's been awhile since I've updated this blog! I got distracted by the arrival of our baby, but its really time I got back to it. I have a backlog of updates about the house to share.

First, though, a chicken update! The girls are doing great! We moved them from their indoor accommodations to the chicken coop about a week an a half ago and they seem to be quite happy in the new digs. I'll have to post a little coop tour soon.

But, we've had an interesting development! As the chicks have developed into young chicken ladies, it would appear that Mindy and Gilda are not the same breed after all. When I bought the chicks, I was told that they were Egyptian Fayoumis. As babies they certainly looked like little Egyptians. They were actually pretty tough to tell apart. But now? Now they look completely different.

Gilda is skinny and sleek and has a white head, mottled black and white body and a perky little tail. She looks like what Egyptian Fayoumis are supposed to look like.

Mindy, on the other hand, looks like a hawk! She's big and brown and she has short feathers on her cheeks that stand out like a beard. She doesn't look like an Egyptian at all.

My dad came over yesterday, took one look at her and declared her an Americauna. After consulting our chicken books and the Internet, I think he's right. My book even describes Americaunas as having eyes like a "bird of prey". That sounds right!

Well, I'm stoked. Americaunas are also called Easter egg chickens because they lay blue and green eggs! So fun! So,we'll find out for sure if we're right about Mindy when she starts laying, which won't be until this fall. It's going to be so fun to get those first eggs. Here's hoping some of them are extra fancy looking!
May 24, 2013
The baby's room is coming along veeeerrrry slowwwllly. It's hard for me to get a lot done at nearly 9 month's pregnant. The likelihood that the baby's room will be perfectly ready before his arrival is basically zero, but whatever!

I did repaint this dresser. Actually it's 2 dressers, which I think is great because some day if I want to rearrange, I'll have options.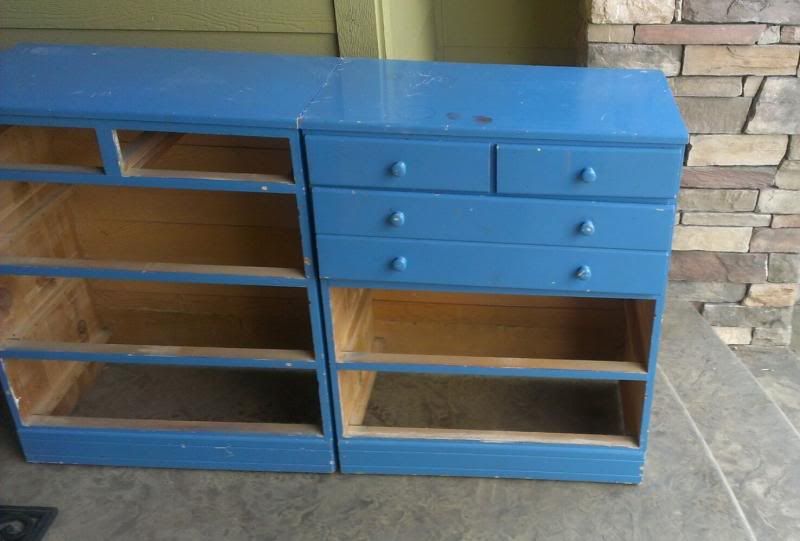 Previously they belonged to my mom and step dad.
I repainted them white and I was going to replace the knobs with something silver or pewter colored, but then I found out how expensive new knobs can be! The ones I wanted were about $5 a piece. That would have meant $100 to replace all of them on the dresser. That was too much.
Instead I left the knobs blue and painted a white circle in the center of each one. I like how they turned out!
I still need to hang the plane painting, but you get the idea.
May 17, 2013
More house colors…. hardest decision ever!
I think Classical Yellow is it, but I kind of want to go blue….
May 17, 2013
I could make something like this if I could borrow a jigsaw from someone… right?
I would just buy them but they wouldn't arrive for 6 weeks and they would be about $80.